Chamberlain High School
Class Of 1983
Military Salute
This page is dedicated to the men and women who have served, or are currently serving, in the United States Armed Forces.

Please take a few moments to thank each of these individuals for their sacrifices. Keep them in your thoughts and prayers as they continue to stand up for our country, its flag and all that it stands for.


Thank you service members and veterans. We appreciate all you've done and all you continue to do.


-Chamberlain High School Class of 1983

Members of our graduating class and family members who took the oath and joined the service are honored below. If you know of someone who should be added to this page, please contact us.
TAYRA COX PAUL, SSG US ARMY
101st AIRBORNE AIR ASSAULT DIVISION, KENTUCKY & KAISERSLAUTERN, GERMANY 1983-1990
MARK ISSERMAN, MSgt USAF - (RET)
OPERATION DESERT STORM Jan 1985 - Jan 2009
WILLIAM JUSTICE, SSgt AIR FORCE - MACDILL AFB
DESERT STORM VETERAN, 1984-1992
CAPTAIN MICHELE KOVACH DERRY COLE, FL AIR NATIONAL GUARD
New Mexico
Air Nation Guard 1997-2005
US
Air Force Reserve, Willow Grove AFR, PA 1989-1992
US Air Force, Active Duty 1985-1989
SARAH LAMASTER BUCKLEY, US NAVY
San Vito, Italy 1987-1989
JEREMY ALEXANDER McNALLY, US AIR FORCE
CURRENTLY SERVING OUR COUNTRY, RETURNED FROM KUWAIT & STATIONED AT DYESS AFB, TEXAS
CAPTAIN CYNTHIA PONTIUS KEE, US AIR FORCE
DESERT STORM VETERAN, 1986-1991
PFC CHAD STONE, US ARMY
CURRENTLY SERVING OUR COUNTRY IN IRAQ AS A CALVARY SCOUT
LIEUTENANT COLONEL CHRISTOPHER VAUGHN, US ARMY
FORT LEAVENWORTH, KANSAS
DARRYL WARREN, US ARMY & FL NATIONAL GUARD
21 YEARS OF SERVICE
OPERATION IRAQI FREEDOM, 2005-2006
"America will never be destroyed from the outside.
I
f we falter and lose our freedoms, it will be because we destroyed ourselves."
-President Abraham Lincoln
I Saw An Eagle Cry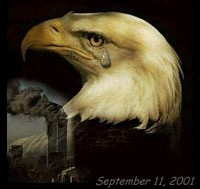 Today I saw an eagle,
With a teardrop in his eye.


It literally took by breath away
To see an eagle cry.


I asked him, What's the matter?
And he told me what he saw.


A cowardly attack was made,
On the towers that once stood tall.


He said everything he stood for,
Had taken a shocking blow.


So he had to take a moment,
To let his own emotions show.


Then he proudly told me,
That our Nation would survive.


That our Liberty and Freedom,
He'd be sure to keep alive.


He said for us not to be afraid,
To stand together, not apart.


For a terrorist has succeeded,
If he puts fear within our hearts.


-Author Unknown




In remembrance of the men and women who served before us, died for us, and are still missing, YOU ARE NOT FORGOTTEN.